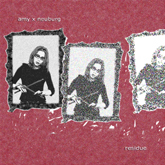 "I've been listening to Amy X Neuburg's 'Residue'… I think I'm in love. Neuburg is a new kind of multi-threat composer, a wonder of sampling, overdubbing, electronic manipulation… a fabulous singer. Exhilarating originality." — Milwaukee Journal-Sentinel
Buy: Other Minds, CD Baby, amazon, itunes
Residue (2004) comprises meticulously arranged studio versions of Amy's earliest 'avant-cabaret' performance pieces for voice, electronic drums and live looping electronics.
Other Minds Records says: "A cross-over artist defying definition, Amy twists multiple musical styles together into something all her own — from cabaret and hard rock to classical. Her wildly inventive lyrics range from the poignant to the absurd, touching on social and political issues in surprisingly personal ways… all intertwined with samples, loops and layers galore. With her unique performance style and riveting stage presence, Amy was a crowd-wower at last year's Other Minds Festival 9 at the Palace of Fine Arts in San Francisco."
Released 2004 on Other Minds Records and distributed through Naxos.
Words and music by AMY X NEUBURG
Recorded, mixed and produced by AMY X NEUBURG
Mastered by KEN LEE
Artwork by AMY X NEUBURG
Cover photography by Yolanda Accinelli