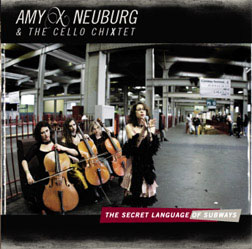 Chosen as one of the Top 10 Classical CDs of 2009 by Joshua Kosman, San Francisco Chronicle. "Her songs channel the rhythms of urban life through the seriocomic sensibility of a born entertainer."
Buy: MinMax, CD Baby, amazon, itunes
The Secret Language of Subways — for voice, cello trio (The Cello ChiXtet), electronic percussion and live looping/processing — is a song cycle about the inane and perpetually unfinished businesses of love and war and New York.
Conceived largely while riding on New York subways, The Secret Language of Subways uses urban imagery and metaphors of war to explore the deceits, battles and triumphs within personal relationships. In performing The Secret Language… Amy uses drum pads, faders and pedals to process both her voice and the cellos with effects and real-time looping, building up layered harmonies and counterpoints live on stage.
Amy says: "The idea of a song cycle for voice and cello trio began in 2003 when I fell in love with the expressive voice-like quality, enormous pitch range and dramatic look of the cello. I then conceived of most of these songs while sitting on the subway during a three-year period when I lived bi-coastally in New York and Oakland. I was inspired by the rhythmic lull of the train, the fragmented meanderings of my thoughts, the dramas of recent world and personal events, and the deluge of sensory input that is New York itself."
Released 2009 on MinMax Music and distributed by Starkland.
Words and music by AMY X NEUBURG
Featuring the Cello ChiXtet: JESS IVRY, ELAINE KRESTON, and BETH VANDERVENNET
Produced by BRUCE KAPHAN and AMY X NEUBURG
Recorded and mixed by BRUCE KAPHAN
Mastered by KEN LEE
Artwork by KIRSTEN SIMS
Photography by REBECCA HENRY